Using Ubersuggest for Keyword Research
In this post, we will be using Ubersuggest for keyword research, we will also try to explain the basic fundamentals of SEO (Search Engine Optimizations) and some of the tools available to help you improve your contents SERP ranking.
Here are a few of the topics we will be covering:
What is Ubersuggest?
What are Keywords?
Reasons to use Ubersuggest.
Analytics/Site Overviews by Ubersuggest.
Using Ubersuggest to generate Keyword Ideas.
How to add filters to your Keyword Ideas.
Using Ubersuggest for Content Ideas.
Checking out your competitors with Ubersuggest.
What is Ubersuggest?
Ubersuggest is a free keyword research tool by blogger and entrepreneur, Neil Patel. The tool fetches data from multiple external sources like:
Google Suggestions and Autocompletion
Ubersuggest offers a clean, simple to use interface and offers multiple tools to help improve the SERP rating of your website/blog for free. Moreover, you can download your list of keywords with just a single click.
What are Keywords?
Keywords (sometimes referred to as "Keyphrases") are words or phrases which focus upon the key points of your content. Keywords should be targetted towards search terms that you wish to target on search engines, the more your content relates to the keywords, the better your search engine rankings for those terms.
Reasons to use Ubersuggest
Ubersuggest is one of many great tools available that I believe everyone should have in their SEO toolbox. Here are some of the top reasons why you should use this keyword research tool:
The tool is free to use and generates multiple relevant keyword ideas incredibly fast.
It offers a clean interface that is user-friendly.
It offers ideas for content as well as keywords to target.
You can quickly find and research keywords gauging their monthly searches and determining the keyword difficulty score for each keyword. Additionally, you can sort the keywords on the basis of their search volume, CPC or Competition.
You can lookup domain names for an overview of content and keywords as well as their rankings.
You can use it to spy on rival sites in addition to checking your own content.
It generates lots of relevant long-tail keywords ideas that you might not think of for example "how to use zoom to record a presentation".
With options like filtering and removing negative keywords, you can compile a list of comprehensive keywords in seconds.
All of the results can be exported to CSV for easy importing into other applications such as Microsoft Excel.
How do I get an overview of a website in Ubersuggest?
Ubersuggest offers you multiple ways to get an overview of keywords or domains. You can search using a domain or keyword in any of the multiple tools available, additionally, you can sign up with a google account to give a tracked overview of your own content/website with personalized SEO suggestions.
Simply click on the "Overview" option on the left sidebar and enter a keyword or domain that you wish to look up, in this example, we are going to use BBC goodfood.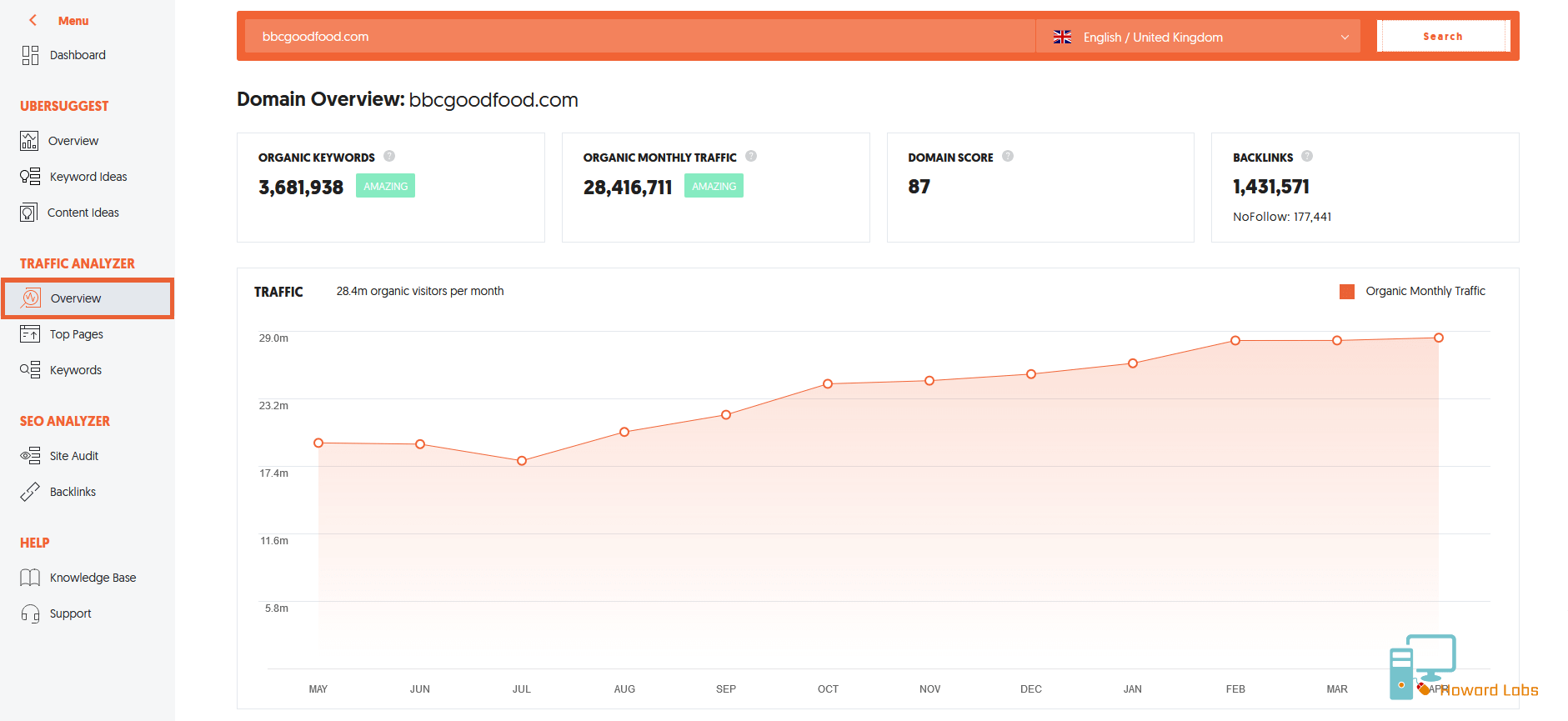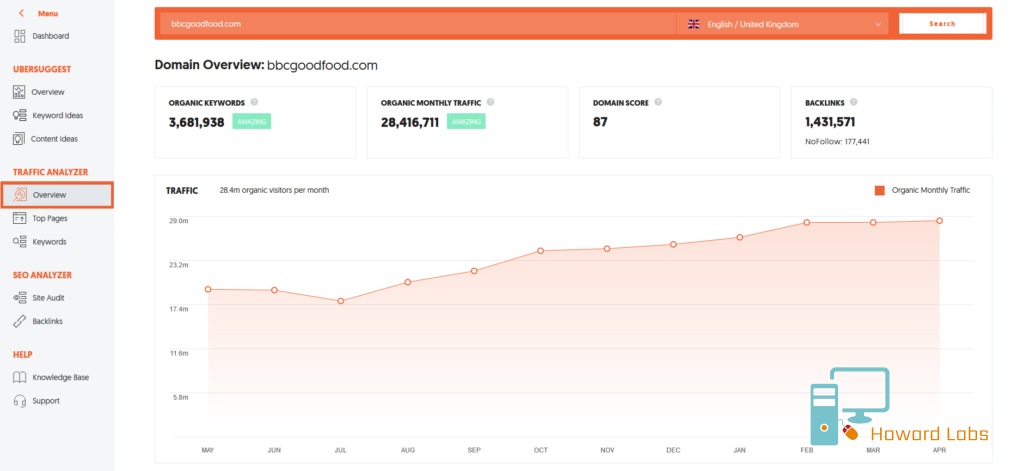 As you can see in the image above, BBC goodfood rank for many keywords, have a high domain score and have built up an impressive number of backlinks. As a result, this helps them to rank highly on search engines as they have a lot of content relevant to the search terms used.


Ubersuggest also presents us with a bar-graph giving an overview of how many keywords rank within the top 100 pages on Google. We can immediately see at a glance that the example given ranks on the first page of Google for almost 1/3 of all targetted keywords.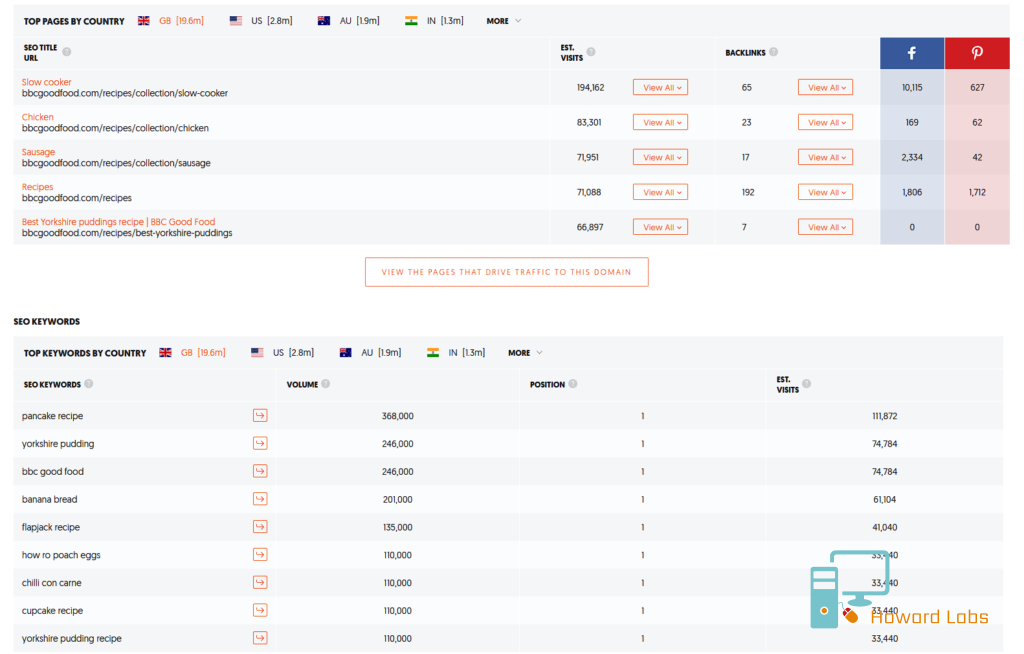 Furthermore, Ubersuggest displays an overview of the top pages per country based on monthly visits and backlinks. You are also presented with the top SEO keywords based on search volume, current position in Google searches and estimated visits per month.
Using Ubersuggest to generate Keyword Ideas.
Let's use Ubersuggest to generate some keyword ideas, on the left sidebar click on "Keyword Ideas". In this example, we will use the keyword phrase "Dinner Recipes", Ubersuggest finds around 401 keyword ideas in just a few seconds, it also offers keywords which may be related, as well as questions containing your keywords, prepositions and comparisons.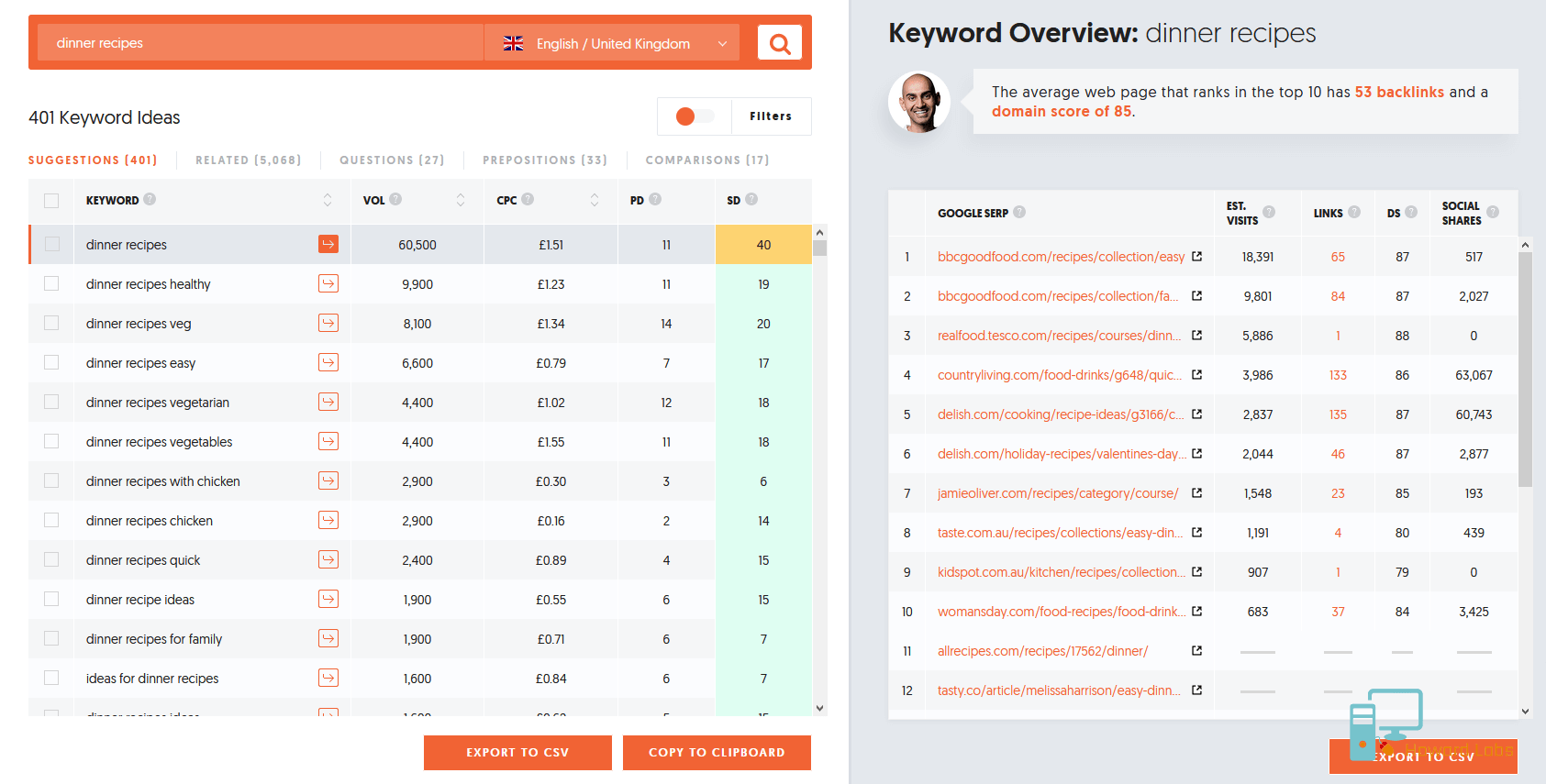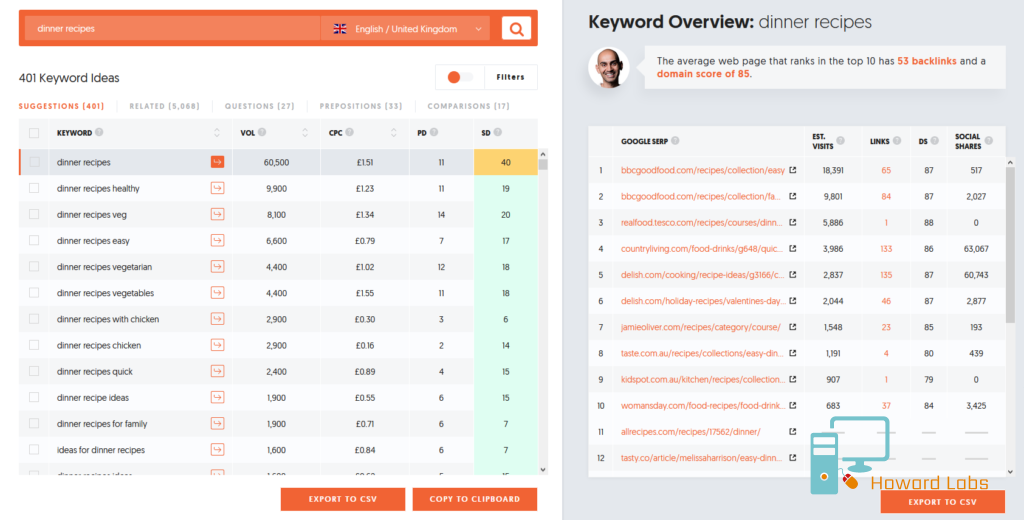 Adding Filters to your Keyword Ideas
Now, we will refine our keywords in order to filter out those which are less relevant to our targetted keywords, we can also narrow down the competition based on the Search Difficulty and competition.
Filter Results
A number of filters are also made available to us, which makes using Ubersuggest for keyword research super simple, suppose we want to filter our results for keywords that have the word "Vegan" in them.
We will use the "filters" toggle displayed along the top of the results. Here, I entered the word "vegan" as I wish to list keywords targeting vegan recipes.
Negative Keywords
Now, suppose we want to remove keywords containing the words "chicken" as we are looking for "Vegan" recipes. We will use the "Exclude keywords" section displayed on the right side of the filters. Here, I entered the word "chicken", I have also chosen to set an SEO difficulty of between 1 and 15 to highlight areas easier to rank well in.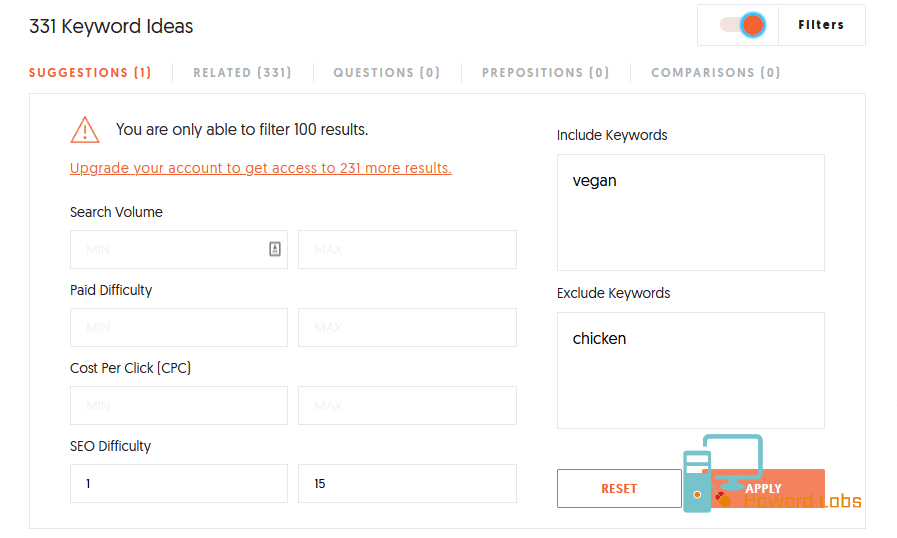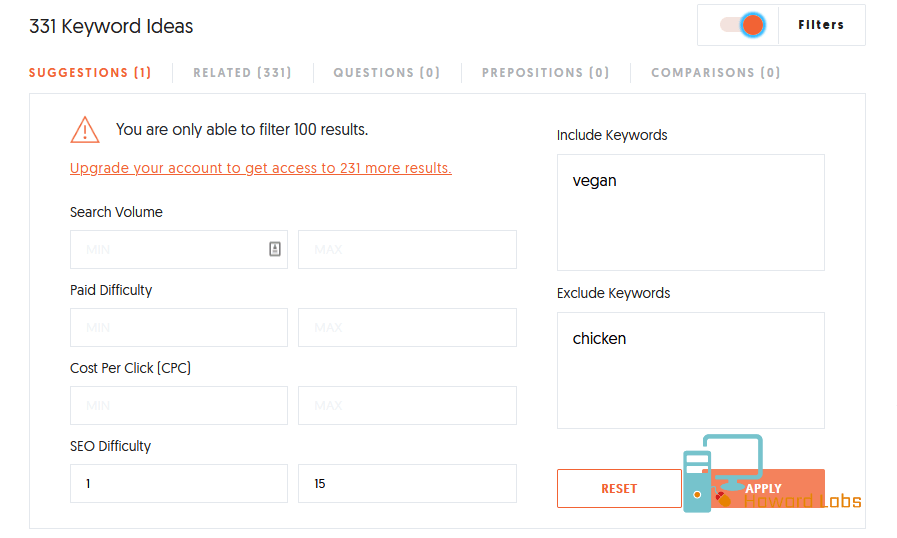 With our filters now applied, we have a few ideas provided that should be fairly easy targets for ranking highly. You may wish to filter further, targeting results with higher CPC (cost per click) or monthly search volume.
With the simple click of a button, we are able to export these results to CSV which can be used in a variety of 3rd party applications such as Microsoft Excel.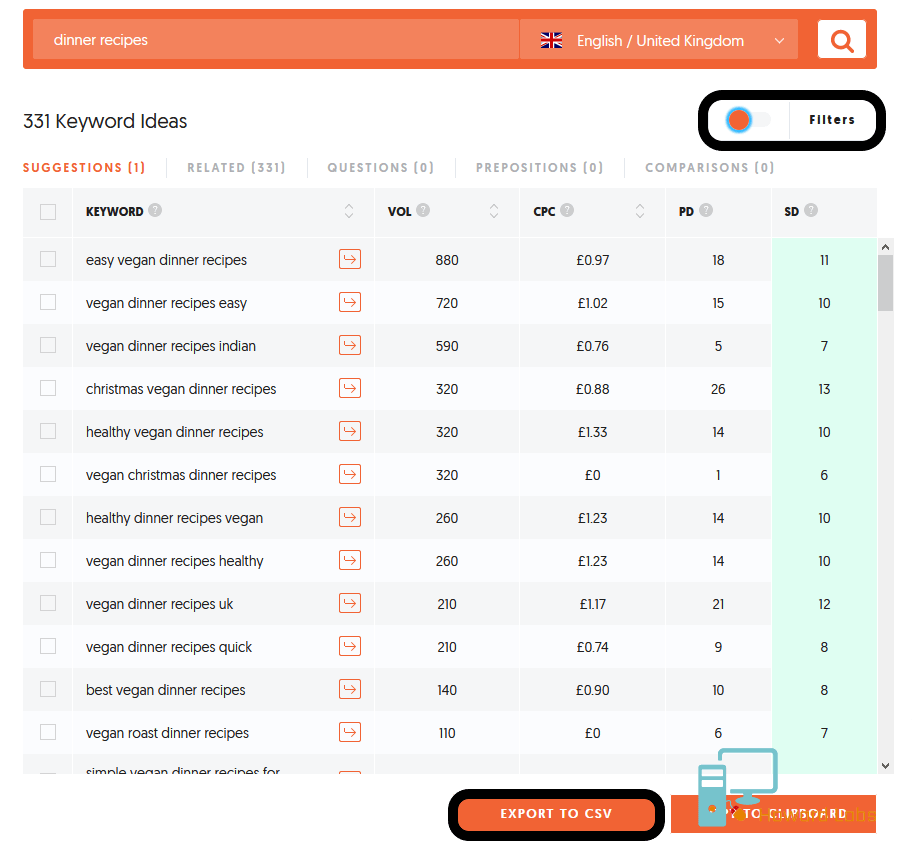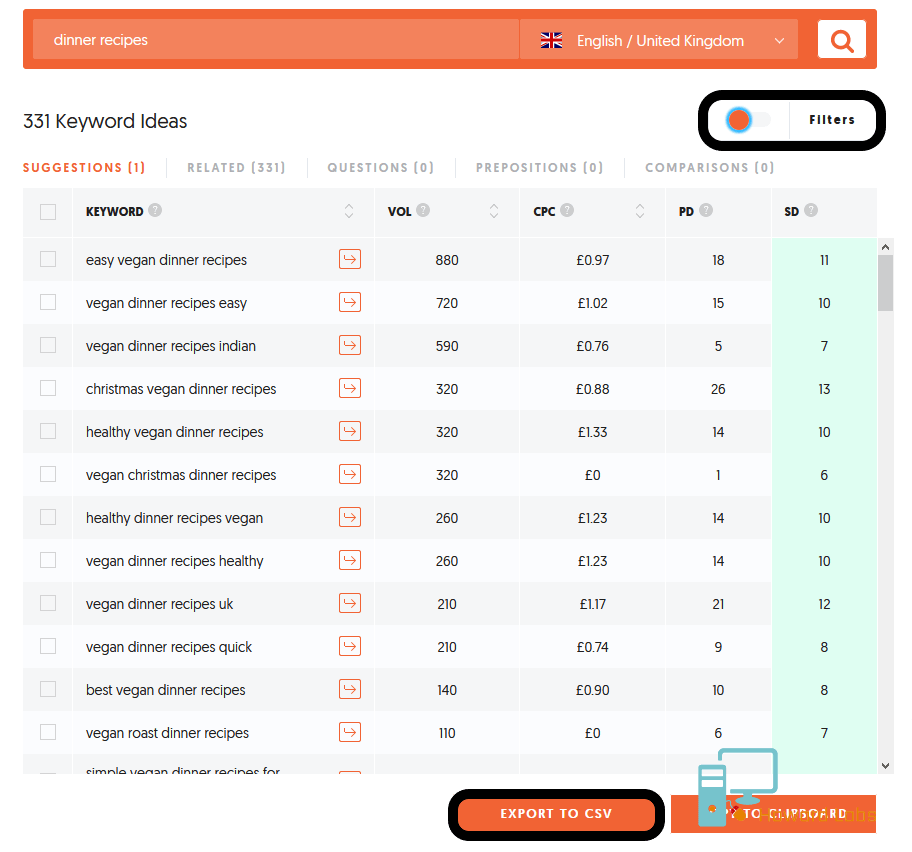 Using Ubersuggest for Content Ideas.
Ubersuggest also provides a great feature labelled "Content Ideas", simply select the option on the left side-bar and enter a search term you wish to target. The tool will present you with existing content which ranks well for your selected search terms.
Results can be expanded further, displaying the highest ranking keywords for each page. Ranked keywords are broken down into monthly search volume, position, SEO difficulty and more.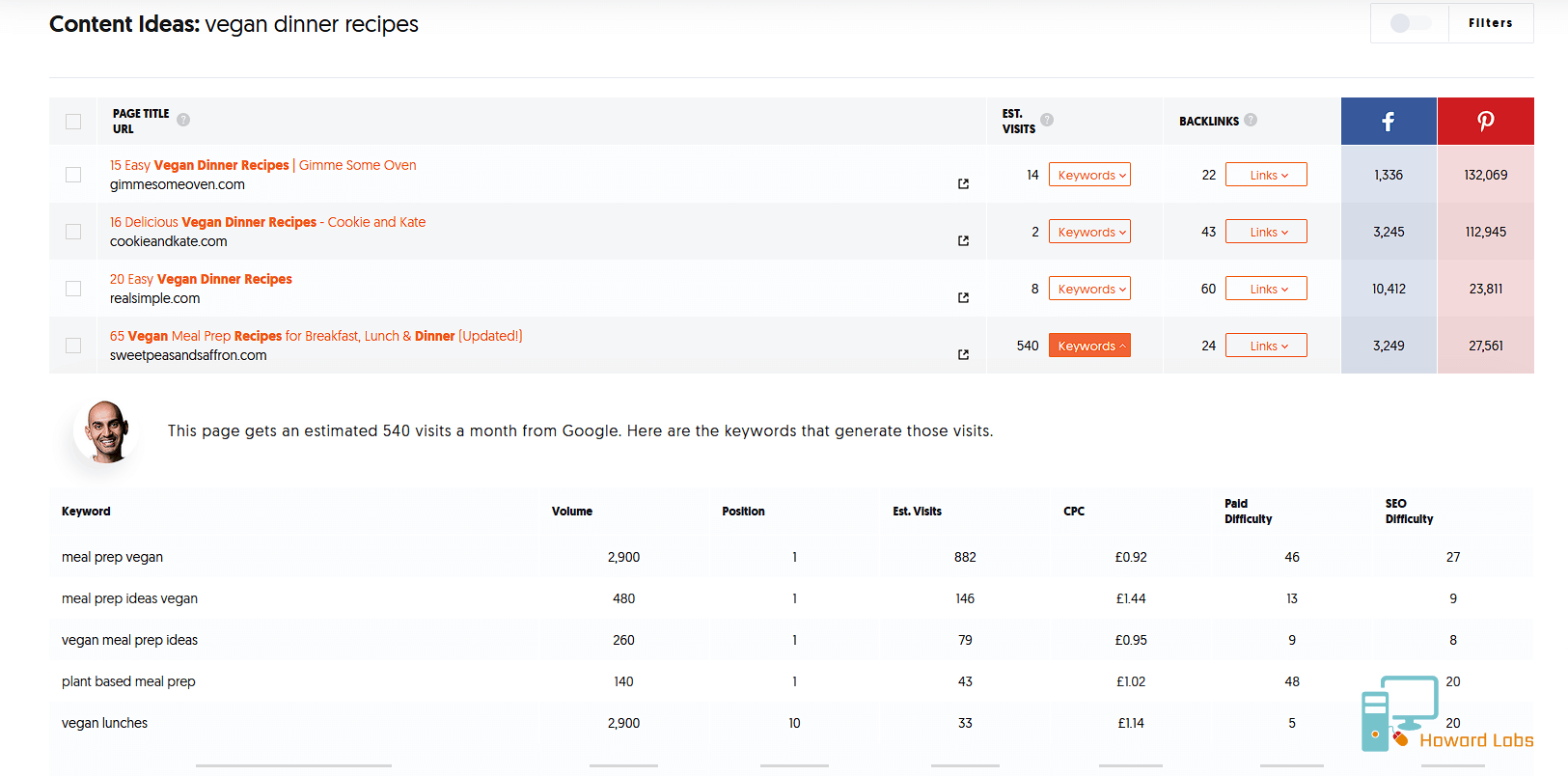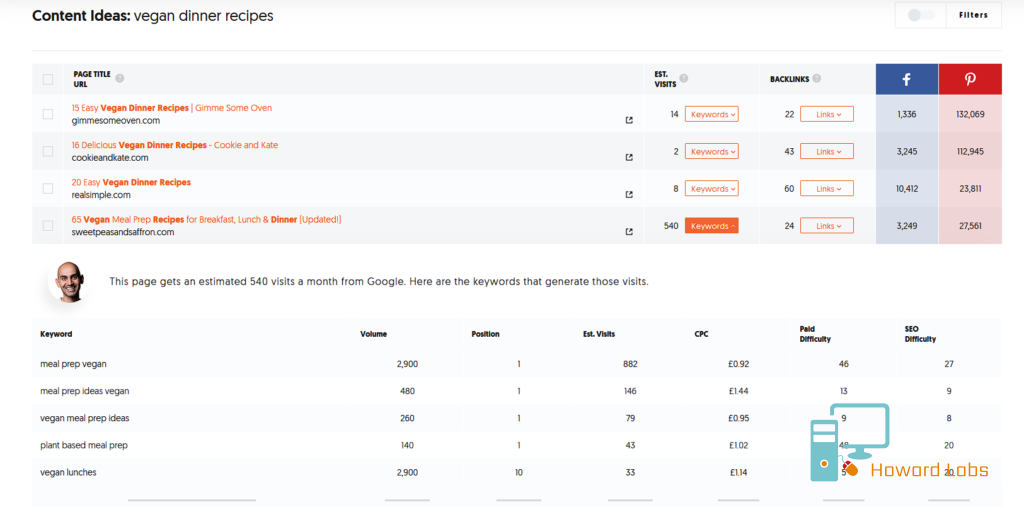 Checking out your competitors with Ubersuggest.
So far we've shown how Ubersuggest can be utilized for keyword research to help improve your own content, but did you know that it can also be used to spy on your competitors?
Try entering a rival domain for a breakdown of their highest-ranked keywords and content. Not only will this give you an insight into where they are doing well, but it also provides everything you need to target those specific areas and help improve your own rankings.
Finishing up.
Ubersuggest shows the search volume, CPC and the competition for every keyword suggested. Moreover, you can sort the list of keywords on the basis of search volume, CPC, competition and much more.
Finding the right keywords for your content has never been easier, using Ubersuggest, it is extremely easy to get hundreds of relevant keyword suggestions for your content.
Ubersuggest is one of many SEO tools available on the web, one I highly recommend having as part of any SEO toolkit. Neil Patel is always working to make improvements and has many resources available for improving your contents SEO ranking.
We hope you found this article helpful, please help us spread the word with by liking and sharing our pages. If you have any questions or would like to know more, please leave a message in the comments section below.